17.06.13
Second day of Scrutineering is a full one
A second day of technical and administrative checks for the 2013 24 Hours of Le Mans, the third round of the FIA World Endurance Championship, takes place on Monday, 17th June.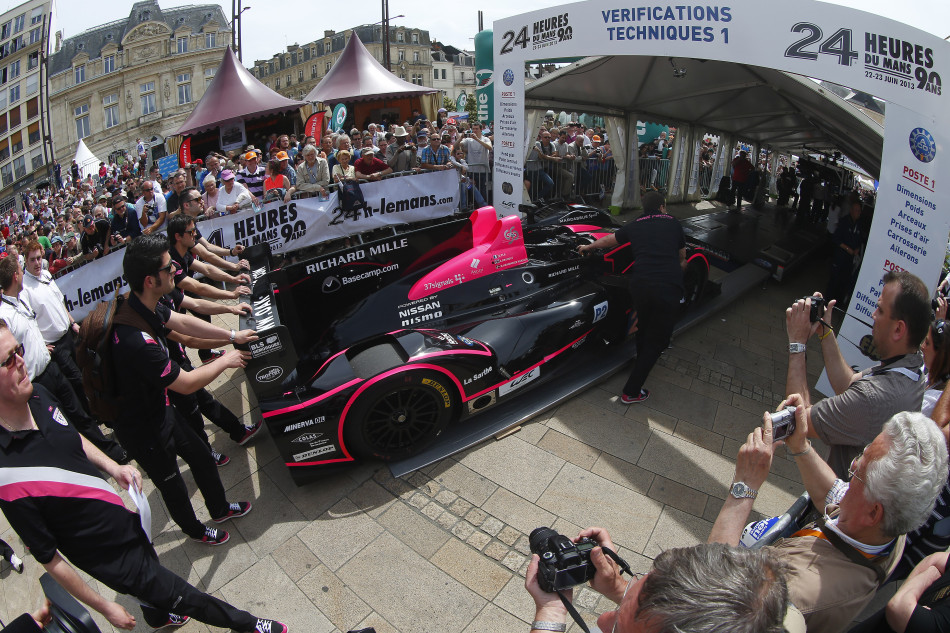 They start from 10:30h and go right through the day until the final car passes through at 17:30h.
Of the 34 cars due to be checked by the race's officials, 18 are from the FIA World Endurance Championship including 24 Hours of Le Mans favourites Audi Sport, Aston Martin Racing, AF Corse, Larbre Competition and the first official Porsche factory GT team for many years.
In the French language, the process which takes place in the Place de la République in the centre of Le Mans is referred to as Le Pesage which means the 'weigh-in' although much more is checked on the LMP1, LMP2, LMGTE Pro and Am cars than just the weight.
Ensuring that the cars comply fully to the latest technical regulations, and that the drivers have the correct licenses and equipment necessary to compete, is vital and no car is authorised to take part in the event without first having passed by the three scrutineering stations.  For more information about what happens at each of these stations, the ACO has an excellent breakdown here.
The first of the FIA World Endurance Championship cars to go through will be LMGTE Am's No.57 Krohn Racing Ferrari 458 Italia at 11:10h, and the final two are the No.91 and 92 Porsche AG Team Manthey 911 RSRs.   A full list is below.
Monday, June 17
11:10                     No.57 Krohn Racing Ferrari 458 Italia                                               LMGTE Am
11:30                     No.12 Rebellion Racing Lola B12/60 Coupe Toyota                             LMP1
11:40                     No.13 Rebellion Racing Lola B12/60 Coupe Toyota                             LMP1
12:10                     No.41 Greaves Motorsport Zytek Z11SN-Nissan                                 LMP2
14:00                     No.51 AF Corse Ferrari 458 Italia                                                      LMGTE Pro
14:10                     No.71 AF Corse Ferrari 458 Italia                                                      LMGTE Pro
14:40                     No.61 AF Corse Ferrari 458 Italia                                                      LMGTE Am
14:50                     No.81 8Star Motorsports Ferrari 458 Italia                                          LMGTE Am
15:00                     No.49 Pecom Racing ORECA 03 Nissan                                              LMP2
15:10                     No.50 Larbre Competition Chevrolet Corvette C6-ZR1                        LMGTE Am
15:30                     No.97 Aston Martin Racing Vantage V8                                              LMGTE Pro
15:50                     No.99 Aston Martin Racing Vantage V8                                              LMGTE Pro
16:00                     No.95 Aston Martin Racing Vantage V8                                              LMGTE Am
16:10                     No.96 Aston Martin Racing Vantage V8                                              LMGTE Am
16:20                     No.1 Audi Sport Team Joest Audi R18 e-tron quattro                           LMP1
16:30                     No.2 Audi Sport Team Joest Audi R18 e-tron quattro                           LMP1
17:20                     No.91 Porsche AG Team Manthey Porsche 911 RSR                            LMGTE Pro
17:30                     No.92 Porsche AG Team Manthey Porsche 911 RSR                            LMGTE Pro