Rosberg quickest in British Grand Prix FP2
With a drying track, teams ran a heavy afternoon schedule at Silverstone to make up for time lost in the morning.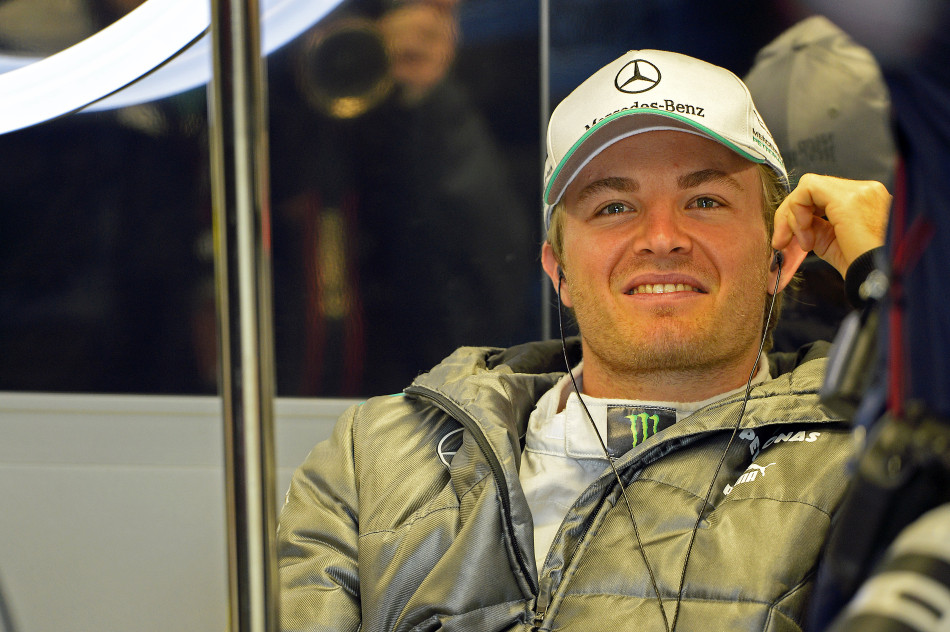 Mercedes Nico Rosberg rose to the top of the Silverstone timesheet with a lap of 1:32.248 shortly after the halfway point in FP2. With drivers predominantly concentrating on long runs after that point his time went unchallenged. Mark Webber was his closest rival, three-tenths of a second behind, followed by Red Bull team-mate Sebastian Vettel. Fourth place was taken by Paul di Resta for Force India, fifth was Rosberg's Mercedes "On one lap the car is still quick, so qualifying should be okay, but the question mark is our race speed."
Nico Rosbergteam-mate Lewis Hamilton. The Toro Rosso duo of Daniel Ricciardo and Jean-Eric Vergne were up next, sixth and seventh respectively, ahead of the second Force India of Adrian Sutil in eighth. Romain Grosjean finished the session ninth for Lotus and Fernando Alonso rounded-out the top ten.
The session began on a wet track with drivers going out on intermediate tyres but it became apparent early that a dry line was forming. Vergne was the first driver to make the switch onto the hard compound slick, just eight minutes into the session.
In the early stages the track, while too dry to run inters without risking damage, was marginal for slicks, with several drivers struggling for grip. Sutil, Di Resta and then Webber each went fastest  in those conditions but the drama was supplied by Felipe Massa. The Ferrari driver snapped into the barriers at Stowe, ripping off his nosecone and badly damaging the front suspension. Yellow flags were out for four minutes as his stricken Ferrari was cleared from the pitlane entrance.
Once the track was clear, Rosberg went to the top of the order, closely shadowed by Hamilton – but with the halfway point looming cars were beginning to switch to the faster medium compound. Vettel briefly took P1 before being supplanted by Rosberg, and with half an hour remaining, Webber sneaked in between them. That was the final serious change to the order.
"On one lap the car is still quick, so qualifying should be okay," said Rosberg, "but the question mark is our race speed. We practised the race speed today and it felt decent so far. But it could be a completely different picture on Sunday as the weather should be a lot warmer, so we don't know where we are right now compared to the others. I'm still quite confident that we can have a good weekend in front of our fans, our colleagues and their families."
2013 British Grand Prix free practice two times
1 Nico Rosberg Mercedes 1:32.248
2 Mark Webber Red Bull Racing 1:32.547 +0.299
3 Sebastian Vettel Red Bull Racing 1:32.680 +0.432
4 Paul di Resta Force India 1:32.832 +0.584
5 Lewis Hamilton Mercedes 1:32.911 +0.663
6 Daniel Ricciardo Toro Rosso 1:33.171 +0.923
7 Jean-Eric Vergne Toro Rosso 1:33.290 +1.042
8 Adrian Sutil Force India 1:33.313 +1.065
9 Romain Grosjean Lotus 1:33.322 +1.074
10 Fernando Alonso Ferrari 1:33.494 +1.246
11 Jenson Button McLaren 1:33.740 +1.492
12 Nico Hülkenberg Sauber 1:33.896 +1.648
13 Kimi Räikkönen Lotus 1:34.120 +1.872
14 Sergio Pérez McLaren 1:34.130 +1.882
15 Esteban Gutiérrez Sauber 1:34.998 +2.750
16 Valtteri Bottas Williams 1:35.070 +2.822
17 Pastor Maldonado Williams 1:35.127 +2.879
18 Jules Bianchi Marussia 1:35.802                  +3.554                 
19 Giedo van der Garde Caterham 1:35.984 +3.736
20 Charles Pic Caterham 1:36.079 +3.831
21 Max Chilton Marussia 1:37.329 +5.081
22 Felipe Massa Ferrari 1:43.466 +11.218