Race 1 : Muller leads RML 1-2
Yvan Muller completed a lights-to-flag domination of the first race of the 2013 FIA World Touring Car Championship season to record RML's first victory as a non-Manufacturer Chevrolet team.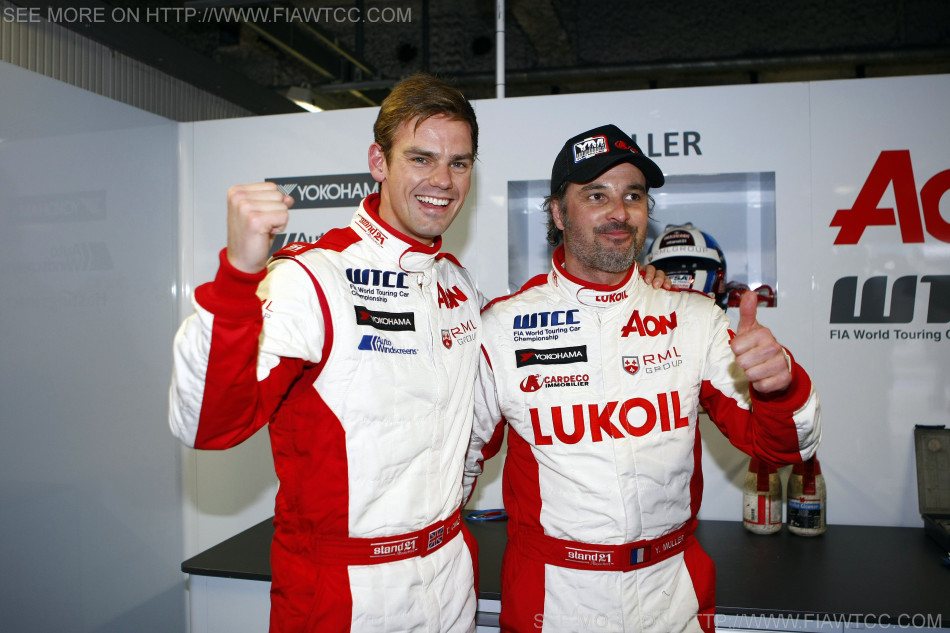 Tom Chilton made it a 1-2 for the team while Alex MacDowall completed an all-Chevrolet podium in the bamboo-engineering Cruze and so took maximum Yokohama Trophy points. Behind the three, Gabriele Tarquini and Tiago Monterio gave the new Castrol Honda WTCC team plenty to cheer about by bringing their two Civic cars home in fourth and fifth places respectively. 
Heavy rain at Monza meant the race started behind the safety car, with Muller, Chilton and MacDowall running in a Chevrolet 1-2-3 throughout the race at the head of the field. An incident on Lap 4 that saw Stefano D'Aste's BMW collide with the barriers briefly saw the re-appearance of the safety car, while contact between the Chevrolet of James Nash and the SEAT of Tom Boardman on the penultimate lap saw the León parked up with broken suspension and so the last lap was completed under yellow flags in that sector.
One of the drives of the race came from Robert Huff. A similar incident in Qualifying to that which befell Boardman meant the reigning World Champion had to start from the back of the grid, but he steadily carved his way through the field to end up in sixth place behind the two Honda cars and so salvaged some points from the race.
Key moments
Lap 2 – Nykjaer used the escape road at Turn 1, then came into the pits. Basseng, Tarquini and D'Aste all passed O'Young. Huff was up into 17th place.
Lap 3 – Engstler used the T1 escape road. Barth spun at the Ascari chicane. Huff was up to 15th.
Lap 4 – Huff used the escape road at T1. Tarquini passed Basseng for 6th. Monteiro passed O'Young for 9th. Coronel cut T4. D'Aste hit the barriers at Ascari. Contact between Tarquini and Basseng. Huff was up to 12th.
Lap 5 – Tarquini out-braked himself going into the T1 chicane and there was contact with Basseng. Huff was up to 11th. Safety car deployed.
Lap 7 – Tarquini passed Nash for 5th. Huff was up to 9th.
Lap 8 – Tarquini passed Oriola for 4th. Basseng went into the gravel at Lesmo 2. Monteiro passed Nash for 6th. Engstler came into the pits.
Lap 9 – Huff and Oriola used the escape road at T1. Oriola pulled up. O'Young went into the gravel at Lesmo 2. Basseng was given a drive-through penalty. Huff was up to 7th.
Lap 10 – Huff passed Nash for 6th. Bennani went off.
Lap 11 – Nash cut Turn 1 after apparent contact with Boardman. Further contact between Nash and Boardman saw Boardman pull up with broken front suspension.