Hamilton tops FP2 in Shanghai
Mercedes driver overcomes morning issues to top afternoon timesheet ahead of Fernando Alonso. Standfirst: Mercedes driver overcomes morning issues to top afternoon timesheet ahead of Alonso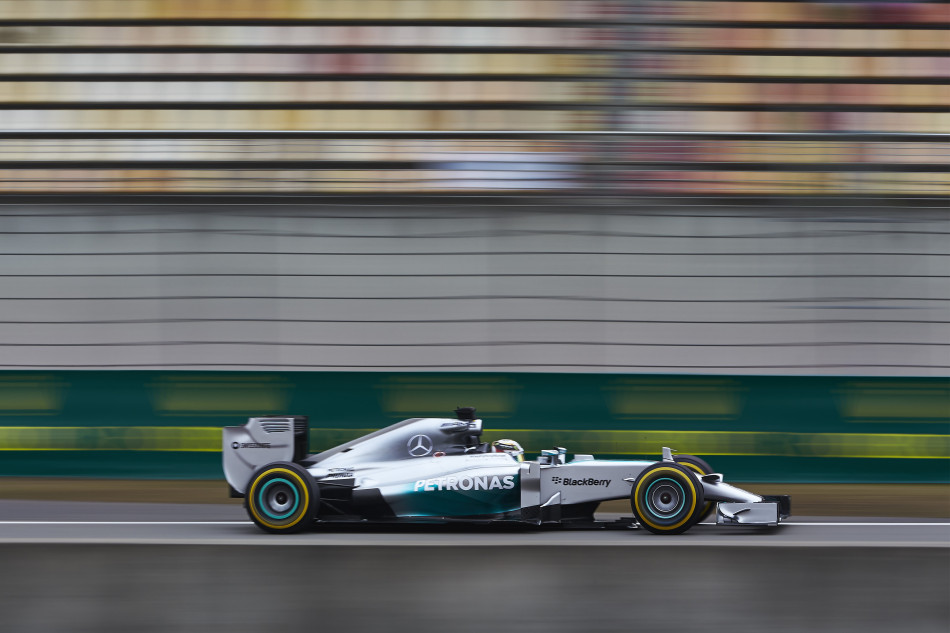 Lewis Hamilton set the fastest time of Friday's second practice session ahead of the Chinese Grand Prix, finishing a tenth ahead of Ferrari's Fernando Alonso, despite the Briton complaining at the end of the session that "something's not right with this car".
In the morning session Hamilton had been hampered by rear suspension problems and work to fix the issues restricted the Mercedes driver to his garage for the first half hour of the afternoon spell. Once on track, however, Hamilton, using the soft tyres, eclipsed Fernando Alonso with a first run lap of 1:38.315 to claim top spot.
"It was quite a difficult day today as we missed some of this morning's session which put us on the back foot slightly, but we were glad to get some laps in the second session at least," said Hamilton. "We're not too happy with the balance of the car at the moment, so we need to go and work on that. This circuit is particularly hard on tyres, as it has been every year, so we need to be prepared for that. A few of the other teams look to have improved in terms of pace, which is great as it means we will have a fight."
Whether the fight will come from Ferrari remains to be seen. Alonso's times were certainly impressive given where the team was a fortnight ago, but they carried with them a hint of showboating, with the team's new boss Marco Mattiacci present for the sessions. Alonso, though, professed himself happy with his day's work.
"We have brought some small updates here, which we already tried at the Bahrain test," he said. "Everything worked well and that's good news. Leaving aside the performance of the others, I am happy with what we have done today. At every race, all the teams bring something new and we must try and make an additional step forward if we want to be competitive.
"This track is particularly tough on tyres, with the Softs especially suffering from graining over a long run, so it will be important to work out the tyre plan for Sunday," he added. "If it rains tomorrow, we will definitely have less information for the race and we will have to rely on guesswork. Let's hope we make the right choices."
Nico Rosberg was third for Mercedes with a time of 1:38.726, four tenths of a second behind his team-mate, while Daniel Ricciardo took third spot ahead of team-mate Sebastian Vettel, the Australian finishing two tenths clear of the world champion.
Behind the Red Bulls, Felipe Massa was sixth for Willams, with the second Ferrari of Kimi Raikkonen seventh. McLaren's Jenson Button was eighth, ahead of Romain Grosjean in a much-improved looking Lotus. Tenth place went to Toro Rosso rookie Daniil Kvyat who finished a tenth ahead of 13th-placed team-mate Jean-Eric Vergne.

2014 Chinese Grand Prix – Free Practice 2 Times
1 Lewis Hamilton Mercedes 1:38.315 25
2 Fernando Alonso Ferrari 1:38.456 0.141 28
3 Nico Rosberg Mercedes 1:38.726 0.411 30
4 Daniel Ricciardo Red Bull Racing 1:38.811 0.496 30
5 Sebastian Vettel Red Bull Racing 1:39.015 0.700 31
6 Felipe Massa Williams 1:39.118 0.803 25
7 Kimi Räikkönen Ferrari 1:39.283 0.968 25
8 Jenson Button McLaren 1:39.491 1.176 29
9 Romain Grosjean Lotus 1:39.537 1.222 36
10 Daniil Kvyat Toro Rosso 1:39.648 1.333 26
11 Nico Hulkenberg Force India 1:39.736 1.421 30
12 Kevin Magnussen McLaren 1:39.744 1.429 29
13 Jean-Eric Vergne Toro Rosso 1:39.759 1.444 28
14 Valtteri Bottas Williams 1:39.830 1.515 25
15 Sergio Perez Force India 1:40.124 1.809 32
16 Esteban Gutierrez Sauber 1:40.359 2.044 32
17 Adrian Sutil Sauber 1:40.395 2.080 30
18 Pastor Maldonado Lotus 1:40.455 2.140 12
19 Jules Bianchi Marussia 1:42.327 4.012 27
20 Max Chilton Marussia 1:43.473 5.158 30
21 Kamui Kobayashi Caterham 1:43.530 5.215 32
22 Marcus Ericsson Caterham 1:43.679 5.364 32