14.08.13
FIA WTCC 2013 mid-season review
As the motorsport calendar reaches its mid-point, FIA.com takes a look at the championships in a mid-season review. Today it's the turn of the World Touring Car Championship.
Despite static regulations, the 2013 FIA World Touring Car Championship season always promised to be a year of dramatic change for the series, thanks to the arrival of Honda and Lada and the departure of long-time championship favourites Chevrolet.
The American manufacturer left WTCC on a high, with three consecutive manufacturers' titles to their name, but drivers' title favourite Yvan Muller found himself without works backing at the start of 2013, driving a familiar Chevrolet Cruze 1.6T for RML Group. Unfazed by the loss of factory support, Muller had a strong start to the season, claiming victory in both rounds of the season opener at Monza.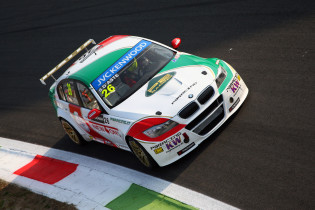 The Frenchman has continued as he started, taking six of 16 possible wins in the season thus far, and leads the drivers' championship standings by 132 points with 225 points available before the championship draws to a close in Macau.
Reigning World Champion Rob Huff currently sits fifth in the standings, 173 points shy of his former teammate. The Briton's move to Münnich Motorsport saw a win and fastest lap in Hungary, but retirements in Morocco and Argentina, coupled with a pointless result in Slovakia, have made a second drivers' title a mathematical improbability.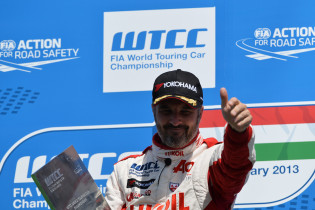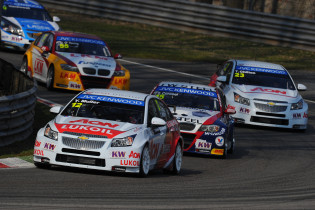 In the Manufacturers' Championship, Honda have a strong lead over Lada, with 661 points to the Russian marque's 398. The Japanese manufacturer claimed a maiden victory with their Civic WTCC car with Gabriele Tarquini at the Slovakia Ring.
Russia joined the WTCC calendar for the first time, and the sixth round of the season was held at Moscow Raceway. The weekend was representative of driver form across the bulk of the season, with Muller claiming the incident-heavy Race One win while Nykjӕr stood on the top step of the podium after Race Two.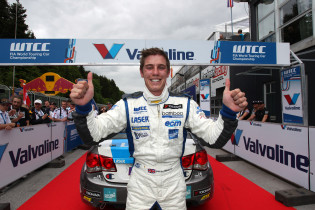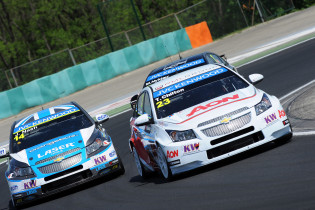 The most recent round, held at Argentina's Autódromo Termas de Río Hondo, saw the first Argentinian winner of a World Touring Car Championship race, with series rookie José María López taking the Race Two victory in a one-off appearance for Wiechers-Sport. In what has been a strong season for record-setting, Pepe Oriola became the youngest winner of a WTCC race when the 19-year-old took the chequered flag in Marrakesh's Race Two.
A third record-setting round took place in Austria, where – for the first time in WTCC history – both races were won by drivers eligible for the Yokohama Trophy. But the weekend at the Salzburgring is more likely to be remembered for a bizarre qualifying session that saw 12 drivers penalised for unsporting behaviour, leading to a dramatic reshuffling of the Race One grid. With a field of cars all desperately seeking a slipstream, Q2 ended without any of the cars making the chequered flag.