ERC Heroes get set for Croatia ashalt spectacular
Event Preview : 2013 FIA European Rally Championship, round 10 of 12, Croatia Rally, 26-28 September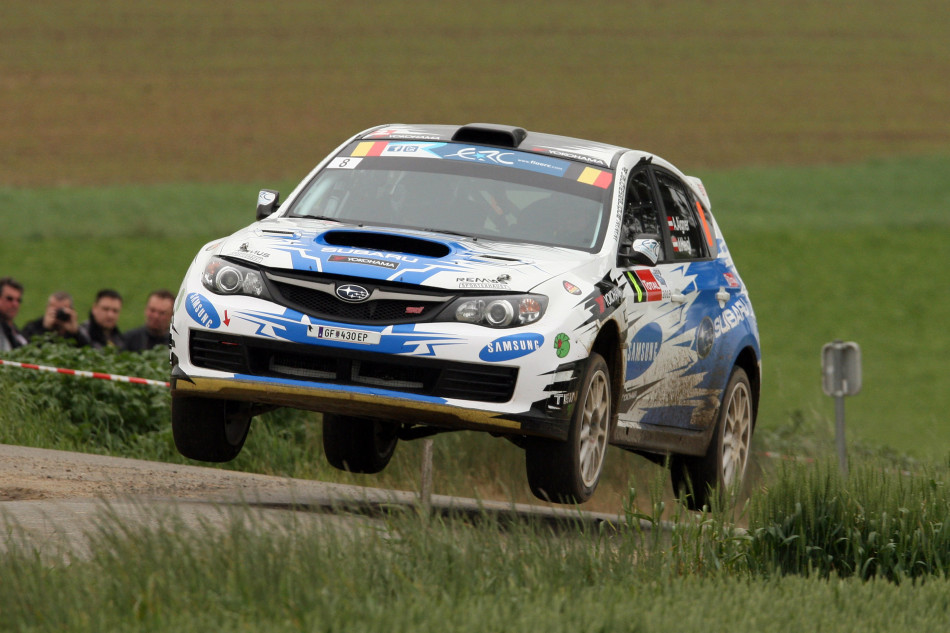 With the dust still settling following Poland's action-packed FIA European Rally Championship counter last week, the focus switches to Croatia as ERC Super September concludes on the country's spectacular Adriatic coast.
A regular fixture on the ERC roster since the championship's restructuring in 2004, the 40th anniversary Croatia Rally marks a return to asphalt for the ERC regulars following the gravel-based LOTOS 70 Rally Poland. Such has been the popularity of the ERC in 2013 and the serious competition ahead, local organisers have attracted a packed entry for the championship's first visit to the seaside town of Poreč, a new venue for the Croatia Rally.
Championships up for grabs
It's not just the overall title that will be a talking point in Croatia. The chase for success in the ERC Production Car Cup, ERC 2WD Championship and ERC Ladies' Trophy continues when the action gets underway on 26 September. Jaroslav Orsák holds an 18-point lead over Subaru Impreza R4 STI ace Andreas Aigner in the ERC Production Car Cup stakes with young star Germain Bonnefis (Renault Mégane R.S N4) four points behind Aigner. But with Orsák unable to take part due to illness, Aigner and Bonnefis are in prime position to capitalise on the Czech driver's absence. The ERC 2WD Championship is more straightforward with Zoltán Bessenyey more than 50 points ahead of his closest challenger Kornél Lukács. But with two rounds left after Croatia, there's plenty of points up for grabs. In the ERC Ladies' Trophy, Ekaterina Stratieva must take maximum points to prevent Molly Taylor from clinching the inaugural crown.
Famous five for Croatia Rally
The ERC Ladies' Trophy has attracted five entries for the Croatia Rally, which equals the benchmark set by the Geko Ypres Rally earlier this season. In addition to regulars Ekaterina Stratieva and Molly Taylor, Asja Zupanch, Klavdija Senica and Jovana Jovanović will also be bidding for honours. Zupanch, who switched to rallying in 2009 following a career in karting and hillclimb, is one of the favourites in her four-wheel-drive Mitsubishi Lancer.
Top teams do battle in the ERC
While GPD Mit Metal Racing Team and Eurosol-Honda Civic Type R have enjoyed runaway success in their respective European teams' championships, the battle still rages in the ERC Production Car Cup for Teams between Napoca Rally Academy and Team Renault Sport Technologies. Both will be fielding full-strength line-ups as they bid for glory in Croatia.
Home heroes out in force
Among the packed entry, several leading Croatian drivers will be taking part on round 10 of the 12-event ERC season. Juraj Šebalj, a three-time winner of the Croatia Rally, is the leading local seed in his ŠKODA Fabia Super 2000, while Daniel Šaškin, who has experience of competing on the Dakar Rally, has a new-generation Ford Fiesta R5 at his disposal. Šebalj currently tops the Croatia and Serbian championship standings. Niko Pulić has won the Croatia Rally on two previous occasions and will be out to impress.
Fathers and sons bid for family bragging rights
Two father-and-son combinations will be competing on the Croatia Rally. Romania's Marco Tempestini heads the Napoca Rally Academy effort with 19-year-old son Simone taking part in an identical Subaru Impreza R4 STI. And joining Germany's Hermann Gassner on the entry will be his son Hermann Jr, who is 24 and finished second overall in Croatia last season.
The ultimate car swap is back on
After engine failure prevented their audacious bid to share driving and co-driving duties on the Geko Ypres Rally in June, Belgians Pieter Tsjoen and Bernd Casier will finally get to experience life behind the wheel and reading the pacenotes on the Croatia Rally. Casier will be driving their Fabia S2000 on Friday's opening leg with Tsjoen taking over on Saturday.
Close fight expected in ERC 2WD
Apart from the battle for outright honours, the ERC 2WD Championship will be keenly contested in Croatia. Aside from the main title protagonists Zoltán Bessenyey (Honda Civic Type R) and Kornél Lukács (Citroën C2R2 Max), Sebastian Barbu will be one to watch after winning his class on the Sibiu Rally. Austria's Hermann Neubauer has shown plenty of pace on his ERC appearances in his Suzuki Swift S1600, while Rok Turk makes his first start in the ERC since Rally Liepāja-Ventspils. The Slovenian will be competing in a Peugeot 208 R2, the car of choice of championship regular Renato Pita from Portugal. Renault Clio R3 driver Aleks Humar, from Slovenia, is also highly rated.
They come from afar for ERC action
Two drivers have travelled great distances to compete in Croatia. Henk Lategan is jetting in from South Africa to take part on his first asphalt rally, while Arian Coppin will be making his ERC debut in a Citroën DS3 R3T as team-mate to fellow Australian Molly Taylor. Unlike Coppin, Taylor will make a somewhat shorter journey from her current base in Italy.
New venue, new route
With a switch to new host venue Poreč, several changes have been made to the route of the Croatia Rally. The Butoniga and Buzet stages, run twice on leg two, are completely new, while Salteria, the longest of the rally at 29.88 kilometres, features elements of previously used stages but has never been run in this layout before. The Poreč SSS, run on Thursday evening and Saturday afternoon, is also new for 2013, while tweaks have been made to a number of other stages. The Croatia Rally is well known for its fast and mountainous roads, which are characterised by a slippery asphalt surface. Although warm and dry conditions are expected, rain can also be a factor in the Istria peninsular where the event is based. Huge numbers of fans follow the action and as well as hosting the ERC, the Croatia Rally will also be staging a beauty pageant, pre- and post-rally parties, plus a number of sets by leading Croatian DJs.
FIVE FACTS
*Five female drivers will be competing on the Croatia Rally, the most in the ERC since the Geko Ypres Rally attracted five female starters back in June.
*The Croatia Rally is one of the oldest events making up the current ERC roster with the first edition taking place in 1974. Tomislav Markt, part of the organising team, won the event in a BMW.
*When it comes to success in this year's ERC, champion-elect Jan Kopecký is the star performer with five wins from seven starts to his name. His factory ŠKODA Motorsport team guided Juho Hänninen to victory in Croatia last season.
*Poreč is big into sport. As well as hosting round 10 of the ERC, the town has staged several other major events including the world championships for handball, fencing and dance.
*It helps to have a sweet tooth in Istria, the region where the Croatia Rally is based. Fritule (donuts) and crunchy kroštule (cookies) are among the favourite deserts.
EVENT ESSENTIALS
Starts: 17:01hrs, Thursday 26 September, Trg Slobode (Poreč Main Square)
Finishes: 17:33hrs, Saturday 28 September, Trg Slobode (Poreč Main Square)
Headquarters: Hotel Laguna Parentium, Zelena Laguna, 52440 Poreč
Service park: City Parking Area, Poreč
Facts and figures:
Entries received: 98
ERC appearances: Six (since restructuring of ERC in 2004)
Stages: 14
Stage distance: 239.12 kilometres (118.68 kilometres leg one, 120.44 kilometres leg two)
Liaison: 414.81 kilometres
Total: 653.93 kilometres
Surface: Asphalt