2013 Rally Guanajuato Mexico - Post Event Press Conference
Post event Press Conference organised by the FIA for the 2013 Rally Guanajuato Mexico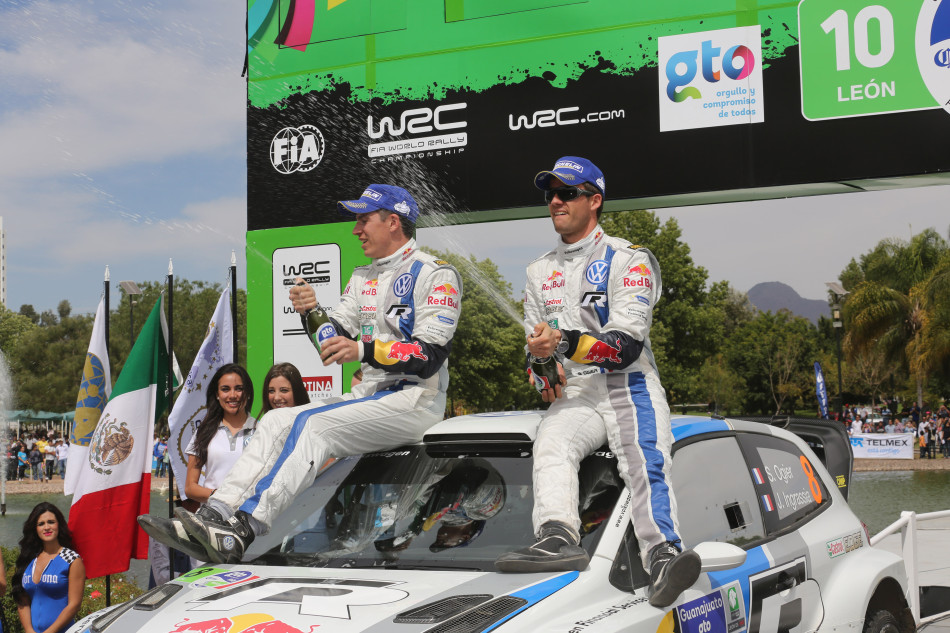 2013 FIA WORLD RALLY CHAMPIONSHIP
RALLY GUANAJUATO MEXICO
Post-event Press Conference
Sunday 10 March 
Present:
1st - Sébastien Ogier, Volkswagen Motorsport
1st - Julien Ingrassia, Volkswagen Motorsport 
2nd - Mikko Hirvonen, Citroën Total Abu Dhabi World Rally Team
2nd - Jarmo Lehtinen, Citroën Total Abu Dhabi World Rally Team
3rd - Thierry Neuville, Qatar World Rally Team
3rd - Nicolas Gilsoul, Qatar World Rally Team
Jost Capito, Volkswagen Motorsport Director
Q:
Two wins in a row for Volkswagen Motorsport, the season just keeps getting better for you! Congratulations on a great win here in Mexico! But you look slightly different than you did earlier this afternoon. What happened?
SO:
It looks like we had a gate issue! I was a bit late for the podium and was running in the service park and, at the same time, I was signing autographs. Then I hit a door with my head and now I look like a boxer….
Q:
But happy with the result, obviously.
SO:
For sure, I am very pleased. It has been a perfect weekend for us. The car was perfect again and I thank the team again for that. They are doing a really good job. From the start of the season we have had no problems with the car. We know we have a few things to improve but I have had so much fun. I have really enjoyed the rally in Mexico with all the support and we have a good lead after three races.  
Q:
You won this event back in 2008 in the JWRC, did you imagine back then you would be as successful as you are today?
SO:
That was the target. It was the timing. I remember it well from the start. It is just like a dream for me to come in WRC and win. I remember coming here and winning in the junior category for the first time. We won the Junior Championship but then I found it a bit difficult to adapt and did not have so much experience at the start. It is good now and after five years or so we are here in the top category and taking another victory. I hope this is just the beginning. 
Q:
Were there any issues at all this weekend? We heard there might have been an issue this morning...?
SO:
Just a small one before the Power Stage with a sensor – it was a bit of stress with that – maybe it could get worse. It could have been bad but no real drama. It meant I could not accelerate 100%, only 95%.
Q:
You kept a great pace this weekend, not really slowing down at all - did you just feel comfortable at that pace?
SO:
I think on day one I had to drive fast because Mads [Ostberg] was driving very well and we needed to make a gap. Then, on day two we started to make a gap and I was pushing and I was the faster in the afternoon. When Mads was not here I continued on the stages quite hard and they were beautiful. I just wanted to avoid the rocks and not push the car too hard. I think it is the best when you have fun and you are fast.
Q:
Julien, a second successive win for you. What are your thoughts? 
JI:
For myself, we have many stories especially from yesterday. I learn how to jump out of the car. Now I also see how we can finish with 28 points as well. It is another challenge here. We have now done three different rallies. We must wait to see the performance of the car on each surface. Our car is working very well here as well. It was a big challenge for us. 
Q:
Mikko, you take away second position here in Mexico, first time on the podium for you this season. How was your weekend here in Mexico?
MH:
I am happy, at last, to get a second place after a difficult start to the season. It looks like Volkswagen has raised the game and we have to fight hard. We have to work even harder now, I am sure we can improve everything. I am still sliding a little too much and losing time. Without the power with the altitude you lose even more time like this. 
Q:
How much were you pushing on the stages this weekend? Were you at the maximum you could go or not?
MH:
I knew Thierry [Neuville] was keen and Malcolm [Wilson] told him to go fast and catch me. He is really fast. The gap was not so big but he made it a bit easier for me. I was maybe a bit sleepy in the first stage on Friday but, after that, I was quite pleased. I was not able to match Seb's pace so we have to go back to the drawing table again. We are always wanting to fight for the win. People know I have been in this position many times and we will try again.
Q:
What do you think can be done on the next rallies to improve? What was your mind set this morning?
JL:
We know we have to work harder to improve and the answer to that is to improve the driving and be faster in every corner. It is early in the season and there are still a lot of points available. The rally was good this week and the driving and the feeling felt okay. If someone is quicker than you that is the name of the game and you need to look in the mirror and start again. Especially in the Manufacturers' it was a good rally for us with second and fourth. We had made a bad start to the season and now this is our first proper result and we are back in the game.
Q:
Thierry, congratulations on your first-ever WRC podium! How does it feel to have achieved your finishing position?
TN:
Honestly, I have to say I felt confident in the car and, after qualifying, I thought we could find the pace and be competitive. On Saturday I was not so happy and I made a little mistake and a rock broke the steering and we had to slow down. Then we had problems with the temperature and we slowed down again. But we went fast again and it was a good experience today. Malcolm [Wilson] told me to push and I tried hard until 15 kilometres where we were equal [with Mikko]. Then I made a mistake and I knew we must just finish the day for the team.
Q:
Was it stressful for you in the build-up to the first stage this morning?
TN:
I sleep well and my head was clear to push. I knew it was the right choice. I think, okay, sometimes you take a decision and I decided to push. I know it is going to be an interesting year for us and I have so many things to learn.
Q:
Do you think you will get any more podium finishes this season?
TN:
It will be very difficult against Sébastien [Ogier] but I will try on the tarmac rallies. We are working hard to prepare the car and be competitive. 
Q:
Thierry, Mikko mentioned yesterday that you would be 'wet' if you got on the podium, Was he right?
TN:
Completely right – I am very wet and smelling a lot! I am honestly really happy that Nicolas and me managed to get this finish. 
Q:
How do you feel to be on the podium for the first time? How big a moment was it for you on that first stage this morning?
NG:
Of course, the first time is fantastic. For one year now we have worked hard together to understand the WRC and improve our pace notes on each event. I understood there was no damage on the car but, even 100 meters before the corner, I knew that there was no way to make it [the corner]. We learn now and it will be better next time. 
Q:   
Jost, two wins in a row for Volkswagen Motorsport. How are you feeling after this second win? You must be over the moon?
JC:
We are over Mars now! This was completely unexpected for us. The first two rallies were not hard on the cars. This victory is dedicated to our engine guys at Volkswagen Motorsport and Volkswagen AG, who have developed an engine for altitude and one that could cope with the challenges of this rally and deliver the power for the team. It is extraordinary. This win is for the name of the new Volkswagen plant and we have delivered it for the Mexican people. 
Q:   
Can you win again on the next rally in Portugal?
JC:
We will see. Portugal is a new challenge and the first of the standard gravel rallies to decide the Championship – a lot of teams have done well with their first three race results. We will work hard and do a good preparation but the confidence is rising and we will see there.
Q:   
What are your thoughts on Jari-Matti Latvala's performance?
JC:
We did have some small troubles during the rally and we did benefit from the bad luck for some of the competition. Jari-Matti had limited chances to adapt to the Polo before the rally and he was not pushing. I think that his performance today proved that he has made great progress after more time in the Polo. Having been first on the road in the Power Stage, to take one point was a great achievement. 
FIA WRC 2 CHAMPIONSHIP 
Present:
1st - Abdulaziz Al-Kuwari
1st - Killian Duffy
Q:
Abdulaziz, congratulations on your first win in WRC 2 this season. You led from start to finish. How does it feel to take maximum points here?
AA-K:
It's amazing to win. This is only my third WRC rally and my first time in Mexico. My first rally I did in Greece last year and I was 10th overall and scored one point. Then, I come here for WRC 2, I won it. I thank Seashore for their sponsorship. Without them I would not have been here at the start. I think we had a good plan to start in Mexico and now we have 25 points. 
Q:
How did you find the stages this weekend, did you have any moments out there?
AA-K:
We won 21 stages out of 23 and we lost two stages. I had no moments and no problems with the tyres. We avoid the rocks and we slowed down to avoid the big stones. Mexico is very famous for that. We have to see the stages and read the road.  Okay the gap was very big – thank god I did not lose the concentration with such a big gap – it is easy to happen in the long stages. For the first five or six kilometres this morning I drove like a kid. Thanks to Killian for making no mistakes and for always being on time. 
Q:
We have now had three different winners in WRC 2. It is shaping up to be a great season! What is your aim?
AA-K:
Honestly for the history, two winners in the last two rallies and two Arab countries for the first time in the history. We are building good results. I hope in Portugal we can go well also. My plan is not to plan to win there but try to be top four or five and take as many points as possible. Then, maybe Argentina is similar to here. Everyone wants to compete with the faster drivers but you need points and we are planning to do Argentina. It suits me. I like rough rallies like Qatar and it suits the Fiesta. Thanks to M-Sport for that. 
Q:
Killian, congratulations!  It looked to be plain sailing out there this weekend, was it?
KD:
We had no moments all the rally. It was not easy but we led from the start and took a good lead. It can be difficult to keep the concentration but the car was perfect, we got on great and we both learned a lot. 
Q:
What was the toughest challenge of the weekend?
KD:
I suppose the surface change is quite difficult to judge the braking and timing on the notes. The notes have to be perfect. It was a good challenge and will be similar to Portugal. We had no dramas. The rally has been an experience for me – one of the highlights of my career was the start in Guanajuato. It was unbelievable like, signing kids T-shirts and autographs. It will be hard to go back to reality on Tuesday morning.  I think we started to learn the rallies.