2013 Acropolis Rally - Post-Event Press Conference
Post-Event Press Conference organised by the FIA for the 2013 Acropolis Rally.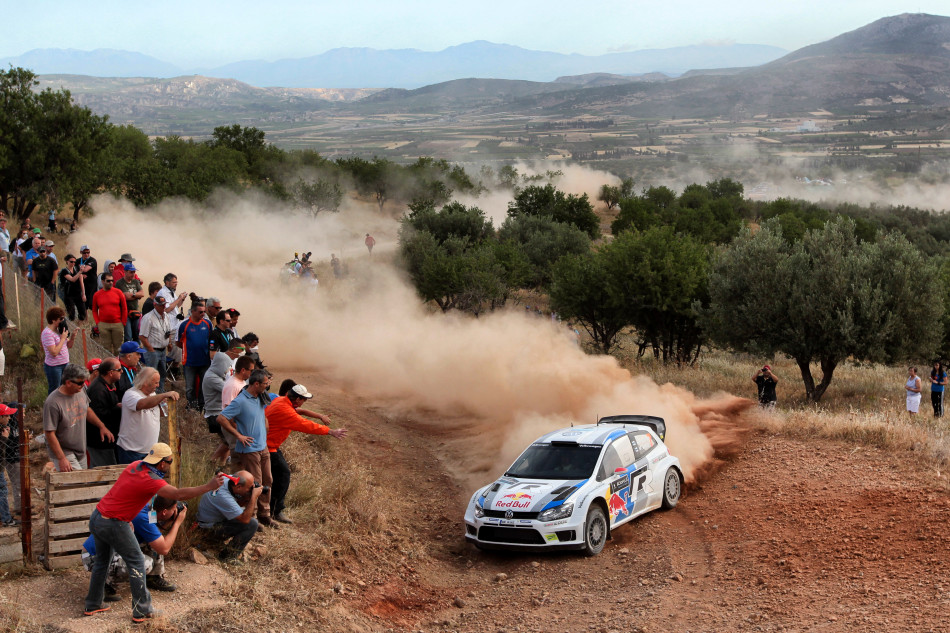 2013 FIA WORLD RALLY CHAMPIONSHIP
ACROPOLIS RALLY
Post event Press Conference
Sunday 2 June
Present:
1st - Jari-Matti Latvala, Volkswagen Motorsport
1st - Miikka Anttila, Volkswagen Motorsport 
2nd - Dani Sordo, Citroën Total Abu Dhabi World Rally Team
2nd - Carlos Del Barrio, Citroën Total Abu Dhabi World Rally Team
3rd - Thierry Neuville, Qatar World Rally Team
3rd - Nicolas Gilsoul, Qatar World Rally Team
Jost Capito, Volkswagen Motorsport Director
Q:
Jari-Matti congratulations on your first win for Volkswagen Motorsport on the 10th anniversary of your first Acropolis! 
J-ML:
I feel really good. It's a big relief. I started my season with a big crash, so for sure it was a big question for Volkswagen, what kind of driver this new driver is. Finally, I delivered the result for the team, even through difficult times. 
Q:
Do you feel you have proven yourself worthy of the drive?
J-ML:
I hope so. There are many more rallies and for the Manufacturers' [championship] it will be a very big battle. We need more good results, but we are in a good way. I am very pleased with this rally that we had a good tactic. It was a bit more tactical rally than before.
Q:
Let's talk through it. No risks on the opening night?
J-ML:
The idea is that in this rally you have to drive around 90 per cent which means overall you have areas where you can go 100 per cent, but not all the time ¬– the tyres and car won't take it. You need areas to slow down and we marked these on the notes to make it easier on the car and we calculated those splits should work out and it did work out. Even though it didn't look so special… we were 40 seconds behind after the first stage.
Q:
Did you feel the pressure in the lead?
J-ML:
I did not think so much about that until this morning. Saturday was stage-by-stage and then only today I realised we were getting closer and that made more excitement. Yesterday was a long day.
Q:
Any 'Jari-Matti moments'?
J-ML:
Yes, two. In the first stage, three kilometres from the start, I went straight to avoid hitting anything. We lost 14 seconds with that and then on stage number four there was a downhill section where I was too fast; downhill breaking into a right-left sequence. I went wide on the right and that pushed me back to the left and the right direction. I was very, very lucky. I said to Miikka: "Okay, we were lucky, we have used our luck – we get no more chances."
Q:
Ten years ago you came here as a factory driver for the first time and now you've won…
J-ML:
I don't know if you were here when I made the story before the rally… let's make another story. I came here in 2003, I was an 18-year-old boy and it was my first time driving a Focus RS WRC. The excitement was huge. I did shakedown with Colin McRae, Tommi Makinen and Petter Solberg and then the rally started and it was quite difficult conditions on the first stage. After the first day I was so tired going into the second day, I wanted to sleep in the car! I was not ready for such a hot physical rally. I had the big passion to drive, but no idea about set-up, I could not do anything for the car – I had no experience, I was just driving stage-by-stage. I remember in the last service, three stages to go we were 10th and Malcolm Wilson said to me to take it easy. It was so difficult to make the finish. I think it was the third last stage, I was ninth fastest beating Didier Auriol by one second. This was so big for me, I was a young boy taking the experience. Great moments. It's great to bring these moments back. I am getting older, I am not the young generation anymore! It meant a lot to me. I got the spectators' trophy here, back then my style was wild; I could not drive the car straight, all the time there were big Scandinavian flicks… Thanks for listening to me. 
Q:
Jari-Matti commented yesterday morning that at the end of stage 3 you had told him what a good drive it was. He said that doesn't happen often so he knew it was good! How do you rate his performance?
MA:
Basically, like I said after that stage – that was the driving which will give us victory. It was problem-free driving and this rally is all about getting out of problems. Leading this rally means nothing, yesterday we led, but all the time you are fighting the conditions and the [other] drivers. Everybody can face the problems, but you have to avoid them.
Q:
How special is this moment?
MA:
Like Jari-Matti said, now we have proven that… most probably, they were correct when they sign us for the team!
Q:
Dani, what was your strategy during the event? Did you have any issues out on the stages at all?
DS:
After the crash in Portugal and the problems in Argentina and the mistake in Sweden, it was not an easy start to the season. This is a rally I like, with good grip, but it is also risky for the car and tyres. I didn't want to take many risks with normal driving and at the end this was pretty good.
Q:
Were you tempted to push on Saturday morning when the gap between you and Jari-Matti was not so big?
DS:
When I saw this with Jari-Matti's speed, I thought one of the stages he will go out and break something if they go flat out: Jari-Matti and [Evgeny] Novikov also. Something happened [to Novikov], it could be exciting, but at the end Jari-Matti's speed was very high, to do the same time would have meant taking many risks. At the end, the result is quite easy to take like this, but at the same time it's good for me and for confidence for me.
Q:
How do you feel about the next round in Italy now?
DS:
Now we have two weeks before the rally, we have points from here and now in the next rally we try to stay in the good way and try to finish at the top.
Q:
Your pace on gravel is great, but when will we see Dani win?
DS:
I don't know! As early as possible! Of course I need to drive and to push to try and win the rally.
Q:
Carlos, it's been a good weekend…
CdB:
This was a tough weekend. The last rally was not the best of my life after the Argentina issues. But I got over it and I have focused on doing my job and getting points for the team and I think this is a very good result. For me this is the first gravel podium, it's good. There were so many stones, so many issues, it's been tough. We are happy and in a part of the year where we can see some improvements.
Q:
No big risks, any moments?
CdB:
No, but to be honest you are never sure 100 per cent what you're doing – it's so easy to make a mistake. It's easy to get out of a corner and have one stone to put you out of the rally. It's not fair like that, but it's the Acropolis and it's the only rally like that. We are happy and in a good position for the manufacturers. Summer time is normally important for us and Jari-Matti. 
Q:
Thierry, your second podium of the year and it's at one of the most difficult events! How are you feeling about the result?
TN:
I didn't think it would come so soon. I showed speed last year, but now I want to show that I can go to the finish of rallies – especially in Greece this was very important for me. This result, especially for the future, shows that I can be clever as well. Sometimes it's not so easy. I think like a 24-year-old who is young in the head. It's not easy to see the times and then to think I can do the same, but I am not allowed! It's not always easy, like I learned in Argentina and already it's [feeling] easier for me. The Qatar M-Sport team did a great job, we had no problems with the car. We had a small transmission problem on Friday night, but otherwise it was all fine – the mechanics did a great job. 
Q:
Is this the new Thierry Neuville?
TN:
Not the new one, but it is the clever one. Definitely, I will come back a bit on the faster pace and try to stay on the road. Finding the way between them both is one of the hardest things for the driver with less experience. But it has gone great like this.
Q:
Which stages were most difficult?
TN:
We started Friday quite slowly and saw after a few corners, Ostberg broke a wheel, then Ogier was out as well. Then Saturday was a good day, the second stage was rough, but we got through two times quite fast and with no problems. But you can always hit a problem – that's the Acropolis. It was hard for the car, but I really enjoyed the stages on Saturday; we were setting third and fourth [fastest times] and we caught some time to Dani [Sordo]. Today was the most difficult conditions for me, we had to avoid the rocks. Then, in the last one, I felt we had a puncture, but it was a broken rim in the last five kilometres. Maybe it was just in my mind, but I had a different kind of feeling.
Q
Nicolas, have you noticed a change?
NG:
Of course, from the start of the season we have been doing a debrief between the rallies to see what is good and what we can improve on and it worked well. In the end we are happy about this.
Q:
Did you think you had a puncture?
NG:
He told me: "I think we have a puncture…" And I thought: "Yeah..." We were very nervous at this moment! We talked together and we managed. After a few kilometres there was no puncture and we were happy to get to the finish line.
Q:
Jost we have been here many times with Sébastien Ogier, but now Jari-Matti. Was he worthy of the drive?
JC:
Yeah, but I have not been feeling otherwise since he joined the team… I know him from eight years and his face fits, he is absolutely the right driver – this was never in doubt. It's more than fair that he got his win. I am very sorry for Seb, what happened was not his fault and that destroyed his rally. But he took the spirit and fought on and four points might be vital at the end [of the year]. But it is great to be here with Jari-Matti.
Q:
You look very cool and calm about things…
JC:
We have been working with both of them for half a year and that pays off.
Q:
You also have Andreas Mikkelsen in fourth place – another great result…
JC:
His performance has been fantastic. This is only his third rally, he is lacking a lot of experience in the Polo; he has only done a couple of days testing. Today he won three of the four stages, today we asked him to push and he pushed. When we ask him to be safe he does that as well – he has developed very well. I am happy with all three drivers in the team.
Q:
You keep saying you didn't expect this success, surely you expected some success?
JC:
No. It's impossible to expect this success, especially when we have a driver combination which has never worked together. We are very happy with four wins from six and this looks dominant, but that's definitely not the case. There are representatives from all three brands here and that shows how close it is. I am happy all three brands are here… as long as I am here as well!
FIA WRC 2 CHAMPIONSHIP 
Present:
1st - Robert Kubica
1st - Maciek Baran
Q:
Robert, congratulations. How does it feel to have won the WRC 2 Championship category?
RK:
It was a difficult and long weekend. A long week actually – it started with the recce. For me, I am used to a very flat and clean circuit, coming here in recce was already something of a shock for me – but then it was worse on the rally. I never saw such a condition or drove in it. But we got through with no problems, except some dust in SS1 and one spin. It's a great result, great for experience. We gained a lot of experience especially in narrow, twisty roads. This is good knowledge for the future.
Q:
This was the polar opposite for you. Did you ever think you could win?
RK: 
Greece is quite a special event and I heard many stories. When I went to the recce and I saw it was much harder and then in the rally it got worse, I have no experience and everything I saw I had to learn. If I was expecting to win, it's difficult to say. I knew if I come here and drive my way I would be able to make a good result. In the end winning is always difficult, especially something like the Acropolis, this is such a difficult rally – actually all rallies are difficult for me this year! Every single rally is a different character. In Finland you have the jumps, in Sardinia there are many difficult places and also the Tarmac. Everybody expects this to be much easier for me, but Germany and France will be tough rallies for me.
Q:
Even when you built your lead you kept your pace up. Were you comfortable?
RK:
Yes, the pace and risk were comfortable. In this condition you cannot push 100 per cent first time in the stage. Today was the most difficult day; these cars are not built, especially in gravel specification, to drive slowly, you have to put energy in the suspension and tyres to get grip. I drove slowly in the first stage and there was no grip at all. If you go slow, you risk more. We changed the car to suit the rough conditions and I took a slower pace to the finish without the risk. And I got no punctures – this was not so easy. All good.
Q
Robert how do you rate your chances for the Championship?
RK:
I rate my chances as zero. First because I am not concentrating on it, it won't be… not a shame, but a bit crazy at the start of the season. I had no experience before Portugal, I had not driven on gravel and most rallies are on gravel. If you ask me to think about the Championship, I am not thinking about it – I approach every rally like this. I like to go fast and bring the car to the limit, but rally is a lot of experience and I don't have any. I have good skills to bring the car to the limit, but this is 10 or 30 per cent, the rest is experience of the roads and conditions and I am discovering these every time I come to the rally. This is a big challenge and this year, all the time, I am learning all of the time. This is why Acropolis is so productive an event for me. 
Q:
What was the best thing about this weekend Maciek? How tough was it?
MB
It was really hard days for us. The greatest moment is right now, or an hour and a half ago when we were at the finish. The toughest was today, the competition was very nice, but today when we had enough gap we should drive slowly. It was difficult to stay on the road and stay in one piece. It wasn't easy.
Q
Did you have any moments?
MB:
Of course when you drive, already every driver has moments. Fortunately, we are here winning. Everything has gone well.
Q:
How special is this result with Robert?
MB:
This is my best result in WRC overall and in WRC 2, so it's something special.
FIA JUNIOR WRC CHAMPIONSHIP
Present:
1st - Jose Suarez
1st - Candido Carrera
Q:
Congratulations, how does it feel to win, Jose?
JS: 
I am really happy. Last year there were a lot of problems on gravel, I couldn't go fast like other drivers. I had a hard winter working and this is the result. 
Q:
Did you have a strategy?
JS:
No. Only to go carefully where the World Rally Cars destroy the stage and the others were backing off. I only had one puncture. 
Q:
Was there a lot of pressure from Pontus [Tidemand, second placed driver]?
JS:
No. Sometimes it was difficult to stay good in the head, but three years' experience mean I can stay with good head and make it.
Q:
It's been a great start to the season, big points in Portugal and a win here…
JS:
Now we go to Pontus's house [Rally Finland] and see what happens. We go to Estonia [for a test rally] to first see what happens.
Q:
It must be great to get a gravel win under your belt before Finland?
JS:
Finland is not like here or Portugal, it is always flat out. If you lift for one second then you lose three seconds, it can be really bad.
Q:
Candido, how impressed have you been with Jose's performance?
CC:
In the last year it was good, but today in this rally every moment is good. The Tarmac is a fantastic performance, but now on the gravel – in the season it is very important.
Q:
What was the toughest part of the event for you?
CC:
In the last stage and in the night it was complicated, the gravel does not give the reference, it is not the same as the Tarmac.
Q:
Are you confident for the Championship?
CC:
I think, to finish the season it's possible to finish with the title. On the gravel every moment is good.