Iveco and New Holland Agriculture official supporter of AfRS
Iveco and New Holland Agriculture are the first manufacturers of commercial vehicles and agricultural machinery to support the FIA Action for Road Safety campaign.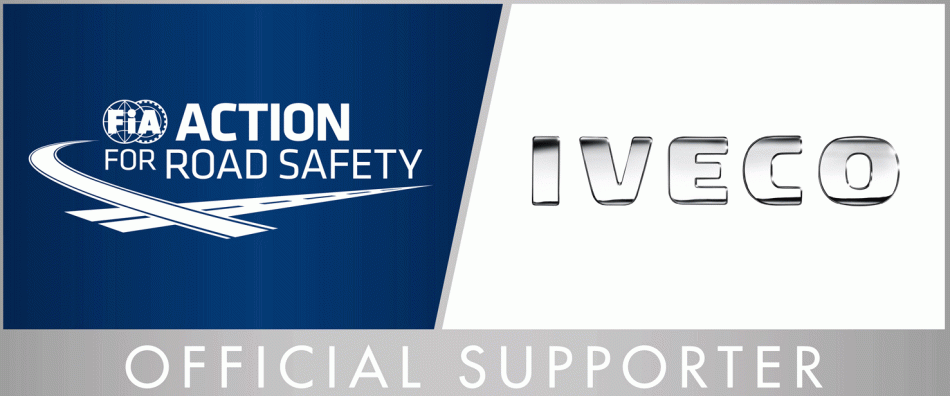 Through its brands, CNH Industrial is the first capital goods Group whose manufacturing includes that of commercial vehicles, agricultural machinery, construction equipment, buses and coaches to support the FIA Action for Road Safety campaign. Road safety is a core value among all of the Group's brands, as advanced vehicle safety systems make an essential contribution to protecting drivers, passengers, other road users, vehicles and cargo.
Iveco's commitment to road safety is demonstrated throughout its entire product range. Each vehicle, from the heaviest to the lightest, offers the most advanced preventive, active, and passive safety systems. The new Stralis Hi-Way  represents the flagship heavy model for the company and its road safety technologies. The vehicle's state-of-the-art safety features were among the characteristics for which it was recognized as International Truck of the Year 2013 at the IAA Motor Show.
Aside from the vehicles themselves, accurate and frequent vehicle maintenance is equally essential to ensuring road safety. Iveco Parts & Service guarantees the quality of its after sales services by offering original Iveco parts, which are certified with the Origin 100% quality mark. Iveco Parts & Service also gives customers the option of adapting older vehicles with modern safety standards, such as the connecting of an integrated infotainment management system.
New Holland Agriculture has always made operator safety one of its key priorities of product design and development and responds to these requirements with pro-active effort on three fronts: technology, operator comfort and enhanced support and maintenance services. A key feature is the ABS SuperSteer™ system,  an ingenious application of ABS technology for tractors, which increases braking safety, while at the same time improving manoeuvrability and ensuring safe vehicle performance on steep ground. Operator comfort also translates into safety: the Horizon™cab with its all-round visibility, and the award-winning Sidewinder™ armrest with the multifunctional Command Grip™ lever bring together all the tractor's main functions in a logical and ergonomic layout, thus facilitating safe, intuitive operation.   New Holland also puts safety first in daily maintenance activities.. The new BigBaler large square baler range features award-winning safety equipment: the front shield can only be opened if the baler is completely stationary, the power take-off is switched off and the flywheel brake is ON, thus reducing all types of risks associated with maintenance operations.
As a global construction equipment brand, Case puts safety first – for operators, for workers and for the general public in and around jobsites. This care for creating all-round safety in construction drives the development of Case equipment and services with respect to the following four pillars: Safety for operators: using Case equipment; Safety at work: with and around Case equipment; Safety at your Service: in maintaining Case equipment; Safety in the environment: in and around Case equipment.
Through advanced technology and careful design, bus and coach manufacturer , IVECO BUS constantly garantees maximum safety for drivers and passengers. The continuos research and development activities of Iveco Bus ensure the production of vehicles which offer industry leading safety. Passive safety is reinforced by a robust body structure, a general design of the cockpit that focuses on reducing the risk of injury, full front independent air suspension which guarantees excellent handling and limitation of the pitch and roll. Active safety is ensured through many high tech features such as anti -lock braking wheels, traction control that optimizes traction and grip at startup, trajectory correction of the vehicle in curves, bi- xenon lights that significantly improves nighttime visibility, active cruise control that maintains a safe distance from the vehicle ahead and automatically activates the engine brake and retarder in the event of a sudden decrease of this distance and a warning system that alerts the driver when the vehicle leaves its lane without the turn signal being activated represents a valuable aid to prevent any loss of attention or early drowsiness. Finally, the measuring device of tire pressure with an alert signal on dashboard.
CNH Industrial devotes  a great many of its resources to developing equipment that creates the best possible conditions for safe operation. However, operators also need to be aware of the risks, and safe driving practices both on the road and in the field. Through the Group's involvement in the FIA's campaign, awareness will be raised and therefore contribute to an improved safety record for the commercial, agricultural, construction and public transportation sectors .